Northamptonshire's biggest cannabis factory discovered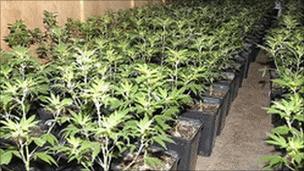 The largest cannabis factory ever found in Northamptonshire has been uncovered by police in the county.
Officers have spent the last few days clearing and examining plants from business premises on Wellingborough Road, Rushden.
About 3,000 plants with an estimated street value of more than £1m were found in 28 rooms.
Northamptonshire Police appealed to landlords letting out large premises to keep a closer check on them.
Ch Insp Gary Ashton said: "We believe this factory may have been running for a few months and I would like to appeal to landlords who let out large premises such as this one in Rushden.
"Please ensure that you keep a check on these premises by visiting them regularly.
"The cost associated with cannabis factory discoveries such as this is extremely high, so it is in the landlord's best interests to do so."
Related Internet Links
The BBC is not responsible for the content of external sites.