Corby hands in bid to become a city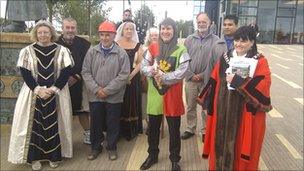 Representatives from Corby have travelled to London to hand in an application for city status.
The town in Northamptonshire has entered the Queen's Diamond Jubilee Civic Honours competition. One new British city will be named next year.
The group was dressed in various historical costumes.
The town's chief executive, Chris Mallender, said: "We've got people representing every significant period from Vikings to Tudor to modern day."
It was announced in 2010 by the government that a new city would be created as part of the Queen's Diamond Jubilee celebrations in 2012.
The mayor of Corby, Gail McDade, said regeneration had improved Corby so much it deserved to be a city.
Corby has Viking origins and the council is using its varied history to make the bid.
"Corby was named after a Viking chief, we have Rockingham Castle which was built by William the Conqueror and then used as hunting grounds by the kings and queens of England," said Mr Mallender.
A decision from the Cabinet Office on where will receive city status is expected early next year.
Other candidates include Reading, Middlesbrough and Dudley.
Related Internet Links
The BBC is not responsible for the content of external sites.