Future of Northamptonshire street lighting under review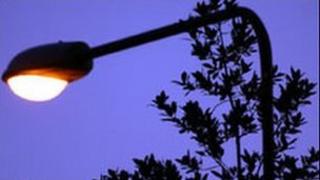 Northamptonshire County Councillors are to consider a revised Private Finance Initiative (PFI) proposal for street lighting.
If it is approved by the government, it will see most of the county's street lighting replaced within five years.
David Farquhar, assistant director for Highways Transport and Infrastructure, said: "The new technology will allow us to have far more remote control.
"There is a capacity to adjust lighting levels to suit the time of day."
The new street lights would use 40% less energy, would offer a more uniform lighting and would be white rather than the traditional yellow.
In 2010 the council named Balfour Beatty as the preferred bidder for the PFI scheme, but since the government's spending review the council has had to draft a new bid.
The county council is looking to completely redesign how it provides lighting in residential areas and is still considering its provision of lighting in 40mph zones within the town
The PFI scheme would also provide the maintenance for the lights for a 25 year period.
If the scheme is approved by both the council's cabinet and the government then the first lights could be replaced by the end of 2011.