Sainsbury's Northampton store growth to create 120 jobs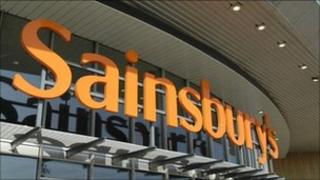 A major supermarket chain has received planning permission for an £18m extension to a Northamptonshire store.
The expansion of Sainsbury's Weedon Road Store in Northampton will almost double the size of the store, creating 120 new full-time and part-time jobs.
The plans were given the go-ahead by the West Northamptonshire Development Corporation (WNDC).
The store will be re-built and refurbished, including a mezzanine first-floor housing a restaurant.
There will also be a new decked car park.
WNDC said roads to the store will be improved, as would pedestrian routes.
Christian Wakelin, from Sainsbury's, said: "We're delighted that WNDC has approved our plans, which will enable us to provide a more modern working environment for our colleagues and improve the shopping experience for our customers.
"We'll now need to finalise all the legal agreements before looking at our timescales for starting the construction works."
The approval is subject to the signing of a Section 106 agreement for Sainsbury's to contribute towards improvements to the highways and Northampton town centre, as well as to sustainable transport initiatives.
The agreement also requires the retailer keep its existing foodstore in the Grosvenor Centre.