Capsule buried in crew's memory at Deenethorpe airfield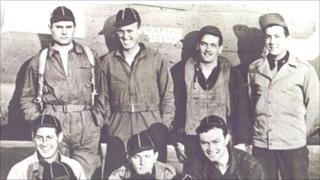 The widow of an American air crewman who took part in WWII bombing raids from a UK airfield has buried a time capsule on the crew's behalf.
Joan Parker was married to Tom Parker, the last of an eight-man 401st Bombardment Squadron crew, that flew a B-17 plane called Lady Luck out of Deenethorpe, Northamptonshire.
In a ceremony, Mrs Parker buried eight glass-bottomed tankards along with a story of the men at the airfield.
The crew carried out bombing raids on marshalling yards in Berlin.
"It was all agreed that whoever was the last one would bring the tankards back to Deenethorpe," she said. "It took some time trying to gather all of the information."
The glass-bottomed tankards were a gift from the pilot of Lady luck, Lt Bob Kamper. He presented them to the crew at a reunion that they had in 1972.
"The silver tankards are inscribed with 'Crew 18' and the date when they all met on Daytona beach in Florida," said Mrs Parker.
The commemorative mugs were meant to be used by the crew when they were together but with certain stipulations.
At least two members of the team had to be present for the tankards to be used. They could also drink out of them to mark the day that Lady Luck was shot down, on 28 March, during a raid.
'Honour and sadness'
Over the years, as each crew member died, a final drink would be taken from the tankard and then the glass bottom smashed.
The tankard would then be passed on to the next living member of the crew.
Mr Parker, the last member of the Lady Luck crew, passed away in March 2011.
Graham Bratley, of the 401st Bombardment Historical Society, struck up a friendship with seven members of the crew, at a reunion in Orlando in 1984.
He was given the task of burying the tankards at the airfield.
"It was with honour and sadness that I planted the mugs in the ground," he said. "Somewhere up there they are watching us and I hope we did them proud."
Members of the British legion, the historical society, and close friends of the family attended the ceremony at Deenethorpe where they also planted an oak tree.
"They were all strangers and because of the war they came together and made themselves a family as the crew of lady luck," said Mrs Parker.
The United States Air Force flew B-17 flying fortresses for nearly two years from Deenethorpe.
Four squadrons made up the 401st Bombardment group. They flew 245 missions against Germany.
The airfield was sold and became farmland after the war.