Northampton becomes region's first 'heart town'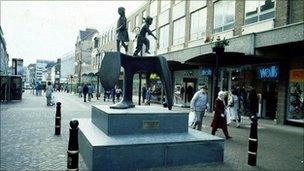 Northampton has become the first place in the East Midlands to team up with the British Heart Foundation (BHF) to become a "heart town".
The town council is working with the BHF to raise awareness of heart issues, and looking into how best to keep your heart healthy.
Volunteers will help create health programmes for local schools and businesses.
Northampton was approached by the BHF to take part in the scheme.
David Palethorpe, leader of Northampton Borough council, said: "All people have to do is make small changes in their lifestyle to benefit their health which is why we got involved."
In May this year, Northampton School for Girls also worked with the BHF to become one of 10 schools in the UK to be classed as a "heart school".
"The heart school worked really well earlier this year, so now we are a heart town we will continue to bring heart awareness to the forefront," Mr Palethorpe said.
The "heart town" is part of the BHF 50th anniversary celebrations, which will see 18 towns across the country joining up to be a part of the initiate.
Nigel Cole, BHF volunteer fundraising manager in Northampton, said: "We will be working with the Northampton community to raise awareness of heart disease, and there are many activities happening throughout the year that local people can get involved in."
Related Internet Links
The BBC is not responsible for the content of external sites.