Street pastors patrol Kettering for the first time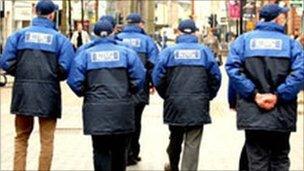 A new street pastors scheme has been launched in Kettering.
34 street pastors have been commissioned by Northamptonshire Police to tour bars and clubs, to talk to people and provide a calming presence.
Street pastors are volunteers who have been trained by the local council, health professionals and the police force on how to help reduce disorder in troubled areas.
This is the first time that street pastors will be in Kettering.
Fiona de Boltz, Street Pastor Co-ordinator, said: "We are excited to know that after months of training we can finally get out into the community and help those that are most vulnerable."
There are more than 26 licensed premises in Kettering town centre.
"Kettering is a vibrant town with so many bars and clubs. We need to show people that we are their to help," said Ms de Boltz.
The street pastors will work from 2245 BST on a Saturday night to 0300 BST the following morning.
They will offer people water for people suffering from dehydration, flip flops for people who are having problems with their shoes and a listening ear for those in need of help and guidance.
"A lot of people talk to us about their relationship break-down and debt.
"We are not going out to preach to people, simply just showing Gods love through our actions," said Ms de Boltz.
16 local churches are involved in the project.