Kettering Welfare Rights Society shuts after funding loss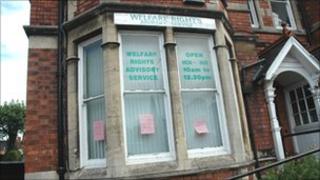 A service in Kettering which used to help people in a crisis has closed.
Kettering Welfare Rights Society lost £37,000 in funding from Northamptonshire County Council this year as it tries to save £73m.
The service, which had been going for 34 years, closed because the criteria set by the council to receive funding changed.
Lesley Johnson, from the charity, said: "We were a small and specialised charity.
"The council wanted organisations that were providing a lot more services than us."
The welfare rights service helped people with a range of problems including filling in forms and preparing clients for a tribunal.
A spokesperson from Northamptonshire County Council said: "The council is now moving towards an approach of commissioning services instead and under this new process, organisations have to tender for contracts to deliver a service
"The direction we're taking will ensure that effective, value-for-money services are provided for residents."
People who used Kettering Welfare Rights Service will now have to use other organisations like the Citizens' Advice Bureau.