Two million litres of water used to extinguish Burton Latimer fire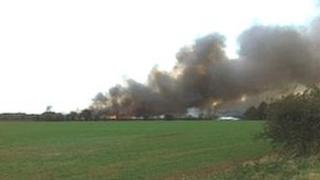 A month-long fire at a recycling plant in Burton Latimer absorbed two million litres of water before it was extinguished, firefighters have estimated.
Water pumps were in constant use at the site between 9 October and 9 November.
Station manager Warren Ellison said the water will be recycled by Think Environmental which runs the site.
The company will not be able to reopen until it meets the conditions of an Environment Agency notice.
At the height of the most recent fire residents living more than 20 miles away could see smoke and ash.
Firefighters used a foam concentrate mixed with water to dampen down an estimated 10,000 tonnes of burning rubbish.
Station manager Warren Ellison, who was in charge of the fire service operation at the site, said: "We can't give an exact figure of the water used but judging on how long we have been there and the pumps we have used we have estimated that it took around two million litres.
"We did use a lot of water but it will be recycled."
Mr Ellison added: "We have collected the water that has run off the site and that will be used by the company in its cooling operation."
It is not yet known what caused the fire, however investigation officers have revealed that the first fire at the site, which started on 25 September and continued for a week, started when paper and wood began to burn.
Eddie O'Neil, who investigated the blaze, said: "The cause of the fire was the accidental ignition of self-heating cellulose material - the waste was in an environment where it began to self-heat, which started the fire."
The company will not be able to import rubbish again until they construct buildings to keep, treat and drain waste.