Northampton Bus Station £8m relocation plan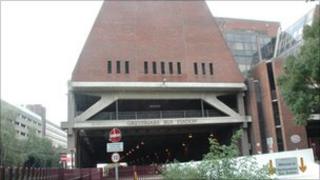 A regeneration group is to give £8m towards the relocation of the bus station in Northampton.
The West Northamptonshire Development Corporation (WNDC) decided to approve the plans in a meeting earlier.
The group have allotted £4m to buy out the current lease on the existing Greyfriars Bus Station, which is held by Stagecoach.
A further £4m will go towards building the new station which will be located on the old Fishmarket site.
Councillor Tim Hadland, the Northampton Borough Cabinet member for regeneration, described it as a "great day for Northampton".
Shopping centre expansion
"It unlocks the first physical stage in the Grosvenor Centre development and will bring a bus facility that will be state of the art right at the heart of the town centre, adjoining the Market Square," said Mr Hadland.
Stagecoach's lease would actually cost £5m to buy out and the rest of the money will be provided by Northampton Borough Council.
It was also announced at the meeting that Legal and General, owners of the Grosvenor Centre, have appointed a team to oversee drawing up a planning application for the centre's redevelopment.
The relocation of the bus station would allow for the expansion of the Grosvenor Shopping Centre which has been in development for a number of years.
The MP for Northampton North, Michael Ellis, said: "This money from the WNDC recognises the importance of these changes to the Grosvenor Centre for the town of Northampton and I'm looking forward to seeing them implemented."
The decision will now be sent to the Treasury for final approval.