Sainsbury's Thrapston revised store plan to be considered by council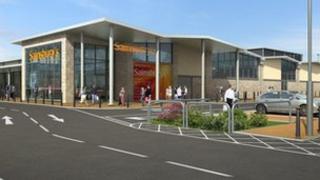 Revised plans to build a superstore on the last remaining cattle market in Northamptonshire are to be considered by East Northamptonshire Council.
The application to build a 1,907 sq m (20,526 sq ft) Sainsbury's on Market Street, Thrapston, has been changed following public consultation.
The plans now include a 20mph zone and better pedestrian links.
Its opponents say the store will kill the town centre. The council is to look at the revised plans in the new year.
The proposals include 169 car-parking spaces, cash machines and a pick-up and drop-off point.
The store would create 150 jobs, Sainsbury's claims.
'Unneeded competition'
Dougal Hartley, Sainsbury's regional development surveyor, said: "If approved, the new store will improve local choice and prevent the need for residents to travel to other, more distant towns for their main food shopping which, combined with a free town centre car park, will lead to increased footfall and improved trade along the High Street."
The owners of Bletsoe and Son cattle market, which has been on the site for about 140 years, have also backed the plan.
Alasdair Brodie of Bletsoe and Son said: "We see this as an opportunity to revitalise Thrapston; we get a new supermarket in the middle of the town next to the High Street."
But a spokesperson for the Save Thrapston campaign group said: "We already have a small supermarket and introducing another will not stop people travelling to bigger shops elsewhere.
"What it will do is provide unneeded competition to the High Street. How can the florist, delicatessen, butcher, baker, card shop and market trader compete with the buying power of Sainsbury's?"
Residents can have their say on the plans until 31 December.