Kings Cliffe radioactive site: protesters win right to appeal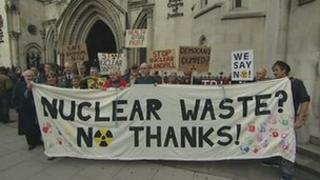 Campaigners hoping to stop low-level radioactive waste being dumped in Northamptonshire have won the right to appeal against the plans.
Last month they lost a legal challenge when the High Court ruled waste company Augean could bury material at a plant in King's Cliffe, near Peterborough.
Villagers reject the firm's claims the plant would not be a health risk.
The appeal will look at whether enough consideration was give to extending the number of years waste can be dumped.
Protesters also believe the government ignored its own commitment to "localism" by approving the project in May.
Northamptonshire county councillors unanimously rejected plans for the site in March 2010.
Augean has said the plant would pose no risk to human health.
It said the maximum radiation dose members of the public could receive was so tiny it should give no cause for concern.