King's Cliffe nuclear waste protesters released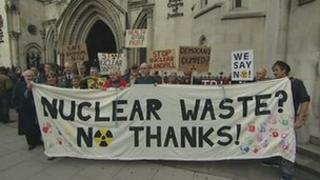 Six protesters who were arrested at a low-level radioactive waste site in Northamptonshire have been released.
The men, aged between 30 and 60, were arrested on suspicion of aggravated trespass at King's Cliffe, near Peterborough.
They were detained and questioned on 2 December at Corby Police Station and were later released with a caution.
Campaigners recently won the right to appeal against waste being dumped at the site.
Hazardous waste company Augean has said the waste, which is mainly soil and rubble from old nuclear power stations, is radioactive but at a very low level.
Villagers and anti-nuclear protesters claim the facility would pose a serious health risk and Northamptonshire County Council had previously rejected the scheme in March 2010.
Communities minister Eric Pickles said in May he had accepted expert advice that it "would not be harmful to the local community".
The appeal will be heard in January.