Dry weather causes St Peter's Church in Raunds to crumble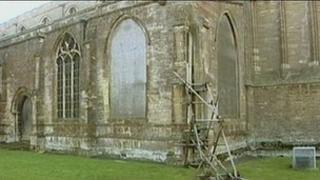 A Grade I-listed church in Northamptonshire is crumbling due to this year's dry weather.
Large cracks have started to develop in St Peter's Church in Raunds which could cause the building to fall down.
The lack of rain has been blamed for the damage. As the clay ground that the church is built on has started to dry, it has caused subsidence.
Architects recommend that the building is underpinned, which could cost up to £500,000.
'Horrific' damage
Cracks have been appearing in the side of the building since April and members of the church's congregation are worried for its future.
Church warden Maureen Windust said: "It was horrific at first but we have all come together and we say we are going to do this.
"St Peter's Church must have a future as well as a past."
Mrs Windust is now part of a fundraising committee which is trying to raise cash for the underpinning work.
The church dates back to 1220 and some of its walls contain medieval paintings.