Wellingborough's chauffeur driven mayoral Mercedes criticised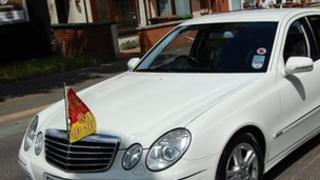 The mayor of Wellingborough is able to spend £16,000 a year leasing a Mercedes and driver, it has been revealed.
The budget for the Northamptonshire town's mayoral car has attracted criticism, with other councils in the county owning their own vehicles or asking mayors to use their own cars.
Even under proposed new cuts the budget would only be reduced by £4,000 a year.
The sum has caused anger as cuts in the same consultation period could see charges for day centres increased.
Labour Councillor Tim Maguire said: "They could cut more from the mayoral budget.
"When you have to lose good people from the council it is surprising that so much is paid out on the mayor's car.
"The good thing about these plans is that they will be considered by the public."
'Cut costs'
He added: "I am sure we can provide a mayor with a car for much less than we are spending at the moment.
"I know that the driver's job is a job in itself and I wouldn't want to do anyone out of a job but when the cuts are getting so tight I think this is a step in the right direction."
Other towns in the county have managed to provide a mayoral car for less.
In Kettering the council paid £15,000 for a mayoral car, a Rover, in 2004.
Anne Ireson, head of democratic services at Kettering Borough Council said the council had spent about £2,000 a year since on the car's maintenance and believed it worked out cheaper.
Northampton County Council asks its mayors to use their own cars and claim for their journeys on expenses.
A spokesperson for Conservative-led Wellingborough Council said that over the past four months the actual spend had been far less than the budget.
"On average at the moment we spend around £676 a month, which is very good value for money - certainly a lot cheaper than owning our own mayoral car with all the associated fuel, insurance and tax costs plus the cost of employing someone to drive it etc," they said.