Nene Valley Gravel Pits gets protection status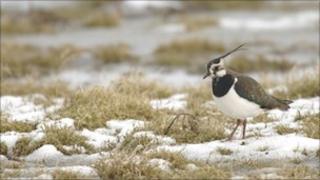 A wetland area in Northamptonshire has been given international environmental protection.
More than 35km at the Nene Valley Gravel Pits near Thrapston now has a Special Protection Area Status.
The area is described as a "winter mecca" for ducks, swans and wading birds from Europe and Scandinavia.
The Nene Gravel Pits will share the same level of protection as places like the Danube Delta in Romania.
Colin Wilkinson, conservation officer with the RSPB, said: "The Nene Valley attracts more than 24,000 birds during a given season which qualifies the area for special status."
The Upper Nene Valley is pitted with ponds and lakes as a result of gravel extraction. The area is fringed with areas of reeds, woodland, grassland and fen which is ideal for birds in the winter, according to Natural England.
Jim Smiley, executive director at Natural England, said: "This is the first international designation of its kind in Northamptonshire, so it is important to the people in the region."
The site was recognised to be of national importance by Natural England in 2005 and was earmarked for international status.
To celebrate the special protection status and showcase some of wildlife in the area, the Wildlife Trust and the RSPB will hold a series of walks on 14 and 15 January.