Tata Steel announces 110 job cuts in Northamptonshire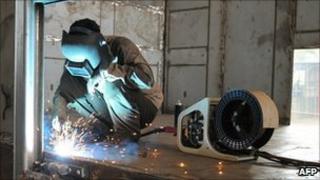 A steel giant has announced a further 110 job losses in the UK as part of a recovery plan.
Tata Steel said its Corby site in Northamptonshire was one of four that would be affected, with a further three in the Netherlands.
The company, which previously announced 1,200 job cuts at its Scunthorpe plant, said the move followed a "detailed review" of its European business.
Unions described the news as a "massive blow".
Michael Leahy, general secretary of the Community union, said: "This is a massive blow for the workforce in Corby who have done everything expected of them to keep the site viable.
"The impact on the local community and families will be particularly hard.
"We are arranging an urgent meeting with Tata Steel Tubes to demand assurances there will be no compulsory redundancies and to explore all other options available.
"We also want a clear commitment from Tata Steel to the long-term security of the site at Corby."
'Detailed review'
Remco Blaauw, managing director of Tata Steel's European tube business, said: "Our announcement today follows a detailed review of all our European tubes activities.
"In response to the prolonged downturn in all European markets for tubes, and in the context of intense competition, the measures announced today are designed to bring these sites into a sustainable financial position.
"Our priority is to minimise the impact on our employees, and to assist affected colleagues through a difficult process."
A 90-day consultation process will take place.
The Indian company, one of the world's leading steel producers, said further jobs were set to be cut in Zwijndrecht, Maastricht and Oosterhout in the Netherlands, in addition to the 110 in Corby.
In December, the firm announced it was mothballing part of a site in Llanwern, in Newport, South Wales, with the loss of 115 jobs.