Vandals cause damage to fitness park in Northamptonshire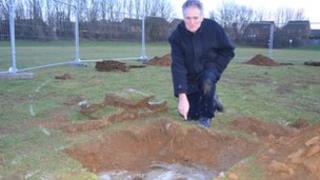 Vandals have damaged an outdoor fitness area being built at a park in Northamptonshire.
Damage was caused to the concrete foundations where the equipment will be placed at Southfields Park in Northampton.
Residents have spent more than four years raising money for the project.
A metal seat was also uprooted, but that has been replaced using quick drying concrete.
Northampton Borough councillor Dennis Meredith said: "We don't understand why anyone would do this because this equipment is being put in for the community."
Mr Meredith and members of Southfield Residents Association have said they will take extra measures to make sure the plans go ahead.
Cliff Goodman, chairman of the residents' association, said: "We are going to have to do extra patrols."
The fitness area is expected to be completed next week and have its grand opening on Saturday, 4 February.