Northamptonshire council's Rosemary Bromwich portrait criticised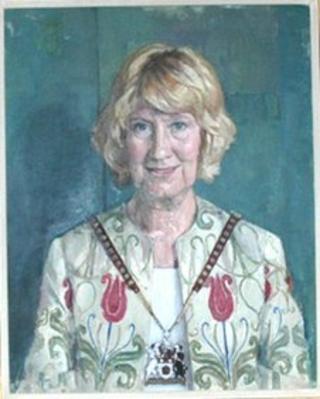 A council's decision to spend £3,000 on a portrait of its former chairman has been described as a "slap in the face" for taxpayers.
Rosemary Bromwich resigned in December after causing controversy by moving to Cornwall but still serving on Northamptonshire County Council.
Labour councillor Danielle Stone said the new portrait was "stiff and stuffy" and a photograph would have sufficed.
The Conservative-led council said that future portraits would be photographic.
The portrait will hang in the council's main chamber.
Ms Stone added: "While we are cutting back on essential services I think it is a bit of a slap in the face.
"The administration needs to be more careful about how it portrays its members."
'Voters disgusted'
Liberal Democrat councillor Dennis Meredith said anger over the cost of the painting had contributed to his party gaining Ms Bromwich's former council seat in Towcester earlier this month.
Mr Meredith said: "I went to Towcester to canvass before the election and voters were disgusted by it.
"It was a contributing factor as to why the Conservatives lost so many votes in Towcester.
"That sort of money, £3,000, could have gone towards reinstating one of our lollipop men who were cut as part of the cost-saving measures."
A council spokeswoman said the portrait would be the last to be funded by the local authority.
"This year we have reviewed this process and have decided in future the council will only fund photographic portraits," she said.
"Anything other than this will be paid for by the individual concerned."