Dale Roberts' memorial: No arrests in fund fraud probe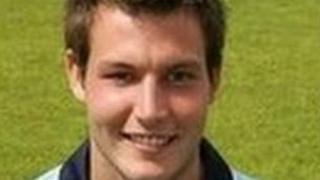 The investigation into suspected fraud in the management of a memorial fund for Northamptonshire footballer Dale Roberts has closed without any arrests.
The fund was set up for the Rushden & Diamonds goalkeeper by the club's fans following his death in December 2010.
Allegations of fraud involving the management of the fund were made in June 2011 and a police investigation was launched but no arrests were made.
The inquiry file has now been sent to the Department of Trade and Industry.
A police statement said: "Northamptonshire Police's economic and financial crime team has been investigating allegations of irregularities in respect of a memorial fund for the late Dale Roberts which had been managed by the former Rushden & Diamonds Football Club.
"We are passing on the case file to the Department of Trade and Industry (DTI), who will now be taking this investigation forward.
"No arrests have been made as part of our investigation, which has been closed pending any further contact from the DTI as a result of the enquiries they will now be carrying out."
'No malpractice'
The football club closed in July 2011 after going into administration.
Rushden & Diamonds former chief executive Steve Beasant has welcomed the findings.
He said: "We assisted the police and they have concluded their investigation.
"There was no malpractice, we would have never got ourselves involved in that, and from my knowledge of the funds in the account, they were used for Dale's funeral.
"I'm satisfied that the police are happy with that and we are fully able to assist the DTI if they have any other questions."