Corby Borough Council called to account by opposition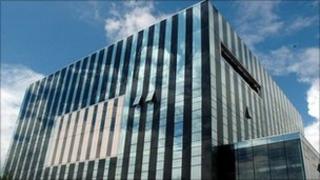 The Conservative opposition on Corby Borough Council has called for a confidential report into a £10m council overspend to be made public.
They accused the ruling Labour group of hiding the reasons behind the budget overspend on the Corby Cube.
Labour said it would issue a summary report to the press and public once it had been discussed by councillors.
The Corby Cube, built in November 2010, is home to the town's theatre, library, register office and council offices.
The building, which took two and a half years to construct, was originallly supposed to cost around £35m.
The leader of the Conservative group, councillor David Sims, said: "People in the Borough of Corby have a right to know how their taxes are spent and how their council is operating."
In response, Labour leader of the council Tom Beattie, said: "'The report contains commercially, financially and legally sensitive information and as such it would be irresponsible for the report to be issued in full.
"This decision could have detrimental implications to both the council and the taxpayers of Corby," he said.