MP Louise Mensch requests Corby Cube overspend report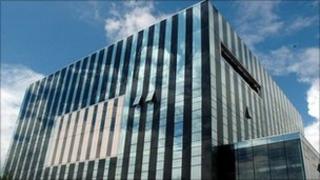 The MP for Corby has requested a confidential report into the £10m overspend on the Corby Cube be made public.
Conservative MP Louise Mensch has submitted a Freedom Of Information request to the borough council.
The Labour-controlled council said the report must be restricted to respect commercial confidences.
Mrs Mensch said: "If there has been failings on this project then the people of Corby have a right to know."
The Corby Cube was built in November 2010 and is home to the town's theatre, library, register office and council offices.
The building, which took two-and-a-half years to construct, was originally supposed to cost about £35m.
Pickles meeting
A cross-party review group was set-up last summer by the council to look into the reasons why the project overspent by £10m.
During the five month consultation process, a number of individuals were interviewed including councillors, council officers and businesses.
David Sims, the leader of the Conservative group who was part of the review, said: "We don't think the interviews of councillors who are accountable to the public should be confidential."
Labour leader of the council Tom Beattie said: "It would be irresponsible for the report to be issued in full and this decision could have detrimental implications to both the council and the taxpayers of Corby."
Mrs Mensch said she expected the request would be denied, but she would take the issue further.
"I'm also going to seek a meeting with [communities and local government minister] Eric Pickles to see if he can do anything about this," she said.