London 2012: Northamptonshire torch relay route revealed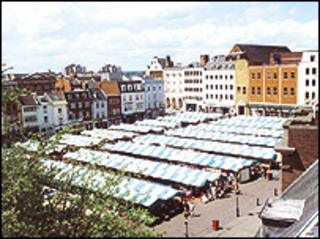 Olympic torch relay organisers have revealed the route along which the torch will be carried in Northamptonshire.
On 2 July, the torch will travel through the county, visiting Corby, Northampton, Wellingborough, Isham, Kettering, Geddington and Dingley.
The Northampton leg will begin at 10:21 GMT in Wheedon Road and leave the county at 15:07 from Dingley.
It will also visit Althorp House, where Diana, Princess of Wales, was buried.
The torch will also pass through the Market Square and Beckets Park in Northampton, the High Street in Wellingborough and near Corby's Olympic Pool in George Street.
Chris Holmes, from Northamptonshire Sport, said it would be a great opportunity for people to get involved.
He said: "For Northamptonshire this is the tip of the iceberg of a lot of activities going on and the relay will highlight many coaching programmes in the county."
Rachel Nafzghar, 21, from Daventry, will be one of the torchbearers.
Ms Nafzghar, who is blind, was nominated by the National Union of Students to be a Future Flame Ambassador because of her volunteering work.
"I can't quite believe it. It doesn't feel real yet and I don't know what to expect," she said.
She spent the past two years touring the country encouraging the public to nominate others to be torchbearers.
"Having spent the last two years promoting the Olympics it is starting to feel like the excitement is building now," she added.
The tour will start in Cornwall in May and will last for 70 days in the run-up to the London Games.
The relay will conclude with the opening ceremony in Stratford on 27 July. A total of 8,000 people will each carry the torch for 300 metres (984.3 ft).
Organisers Locog said the torch would come within 10 miles of 95% of the population.