Wellingborough's Lea Way bought by compulsory purchase order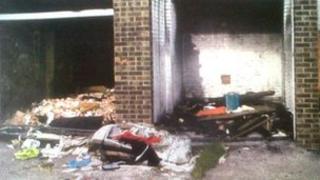 A row of derelict shops in Northamptonshire will be taken over by a council in a bid to conquer anti-social behaviour at the site.
Plans to impose a compulsory purchase order on Lea Way in Wellingborough were approved by Wellingborough Council's resources committee on Wednesday.
Ward councillors said it had become a hot spot for vermin, drug use, illegal dumping, and had been set alight.
It was suggested the area be turned into a site for social housing.
The council has received complaints about the area for seven years.
Brickhill Ward councillor Tim Allebone said: "I think a compulsory purchase order is the only way forward.
"These perfectly serviceable units have been damaged by fire.
"This has been a long-running problem."
He said that while the land is owned privately, the council is powerless to act.