Andrew Carnegie-funded Kettering library 'needs £1m' to be restored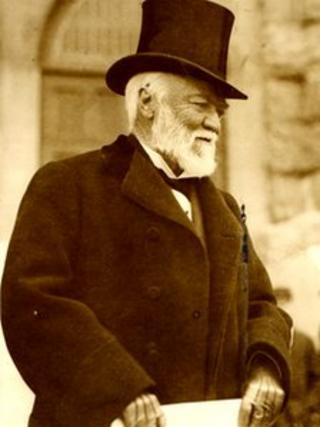 A £1m campaign to restore a Northamptonshire library building funded by philanthropist Andrew Carnegie has been launched.
Kettering library was described as a "jewelled casket of learning" at its opening, in 1904.
Mr Carnegie opened the building after his £8,450 donation made its construction possible.
Now, the Friends of the Library hope his generosity will be mirrored by the people and businesses of Kettering.
Mr Carnegie, who lent his name to the famous concert hall in New York, ploughed some of the millions he made in the American steel industry into building 2,500 free public libraries in the UK, the US and Canada.
In May 1904, aged 68, he broke his usual practice of anonymity by opening Kettering Library in person.
During the official opening ceremony, he issued and stamped the library's first-ever loan - a copy of his own book The Gospel of Wealth.
Northamptonshire County Council is also involved in helping to save the foliage-covered building, which has seen millions of visitors since 1904, but still has the same wooden parquet flooring.
The council said it "simply cannot afford" to fund the work by itself, but has contributed £250,000 for the floor's restoration and to enable the "grand entrance" on Sheep Street to be re-opened.
An appeal by the Friends will pay for the library to get new plasterwork and redecoration, as well as work on the Collyweston slate roof.
Heather Smith, cabinet member for customer services, said: "I'm calling on everyone in the local community, individuals and businesses alike - Kettering Library is your library.
"Please get involved and help restore this building to its former glory."
John Wilson, chairman of the Friends of Kettering Library, said: "The library is a real asset to the intellectual life of the town in many ways.
"I am glad that the friends have been asked to take on this appeal as a project in the Dickens bicentenary year."