Northamptonshire woman left dog without food or water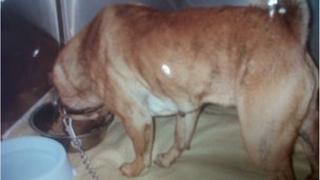 A Northamptonshire woman has admitted leaving her dog at home without food or water for a week while she stayed in London.
Naomi Farmer, 30, pleaded guilty at Northampton Magistrates' Court to failing to meet the welfare needs of the Shar Pei.
When the RSPCA rescued the animal on 13 December she was so malnourished that her rib cage was protruding.
Farmer, of Nursery Road in Kingsthorpe, will be sentenced after reports.
Kevin McCole, prosecuting, said the RSPCA officer was alerted after reports from the woman's neighbours.
When officers went to the house, one of them saw through the window that the dog had been so desperate for food that it had gone through the bin.
The dog was rescued and taken to a vet where it was found to be malnourished and also had severe conjunctivitis.
In a police interview, Farmer said she had "needed to get away". She said she had gone to stay with her boyfriend in London and had not arranged for anyone to feed the dog.
Farmer's solicitor James Smith-Wilds said his client had intended to stay the night but ended staying for the week.
Farmer said: "I'm sorry. I just wasn't thinking properly."
The dog has since been rehomed by the RSPCA.