Wellingborough plans for £1.4m makeover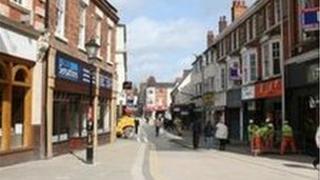 The historic features of a Northamptonshire town centre are set for a £1.4m makeover.
Many of Wellingborough's Victorian shop fronts and several of the town's buildings will be returned to their former glory, the council has said.
Buildings that will also be restored include the Grade II listed Hind Hotel, which dates back to 1645.
The work will be paid for by a £1.4m grant from the Heritage Lottery Fund.
Graham Lawman, chairman of the council's development committee, said: "This is an exciting time for Wellingborough.
"We have a lot of history in our town, and some really beautiful buildings, and we will be able to restore and protect this heritage so that it can be enjoyed for generations to come."
Shops likely to see the changes include those on Market Street, Sheep Street, Silver Street, High Street and Cambridge Street.
Buildings set for a makeover include the Golden Lion, Swanspool House, Croyland Hall and Abbey, the Tithe Barn, Hatton Hall and 28 Church Street.