Public warned against territorial swan in Northamptonshire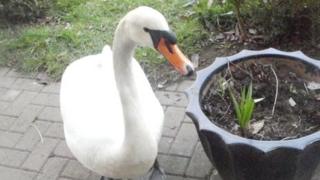 Boaters and kayakers are being warned to steer clear of a territorial swan along a stretch of the Grand Union Canal in Northamptonshire.
The swan, called Tyson, has an eight-foot wing span and is thought to be trying to protect its nest in Bugbrooke village.
The bird has already been seen attacking kayakers on the canal.
"Tyson was so fierce three kayakers were forced out of the water," Linda Sgoluppi, who lives in The Wharf, said.
'Behave defensively'
"I think the bird has been more aggressive because there have been more canoes and boats on the canal than usual," she added.
Mrs Sgoluppi, who is an artist, said she had been aware of Tyson living in the area since 2008.
"The swan has often come into my garden to watch me while I work in the studio. I put videos of the swan on YouTube and someone suggested the name Tyson on Twitter," she said.
A spokesperson for British Waterways said: "It is quite natural for swans to behave defensively at this time of year as they are nesting.
"We would recommend that people respect their space."
This year, Tyson has built its nest in Mrs Sgoluppi's garden and she said on occasion the swan has had a tussle with her lawnmower.
"I have not got a lot of choice really because the bird is determined to be here. We've had to stop cutting the grass temporarily while the Tyson is in the garden," she said.