Newspapers launched in Corby, Wellingborough and Kettering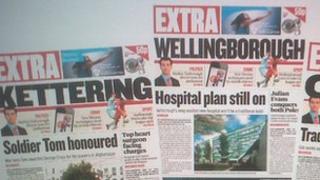 Three newspapers dedicated to community news are set to go on sale in Northamptonshire.
Corby, Wellingborough and Kettering will each have a fortnightly Extra, which will cover "positive good news", the papers' new editor Judith Halliday has said.
Vendors will sell the papers, priced at 50p, on the town's streets on Wednesday.
Ms Halliday said the community would be "at the heart of each publication".
"We are committed to bringing positive, good news to communities that have previously been left feeling that they no longer have a way of finding out what is going on around them.
"We will be right there on the corner with the local community - watching, reporting and sharing all the news."
The areas are also covered by north Northamptonshire's Evening Telegraph daily newspaper, which has a daily Corby edition.