Northampton fountain turned off during hosepipe ban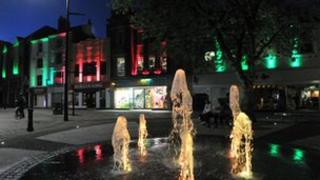 A fountain in Northampton is to be turned off during the hosepipe ban, even though the water used is recycled.
A spokesman for Northampton Borough Council said the feature on Market Square would remain dry to avoid "causing concern".
The decision was taken by the town's marketing management team, which thought people might believe the feature was wasting water.
The fountain was built in 2010 and cost £98,000.
A spokesman for the council said: "It's hard to spread that message to everyone who will come into town over the summer, so rather than cause concern, Northampton Borough Council has decided to switch the fountain off until the ban is over."