Water shortages could halt Northampton Cadets' Jubilee trip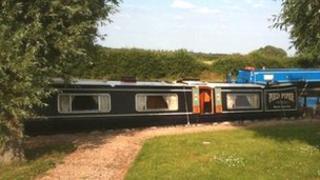 Sea cadets in Northamptonshire said they may not be able to take part in Jubilee celebrations in London because canals are to close due to water shortages.
Northampton and Wellingborough Sea Cadets were going to steer a narrowboat to the Diamond Jubilee Pageant on the River Thames, on the 3 June.
But sections of the Northampton Arm of the Grand Union Canal have closed.
The cadets now need to find another way to get the boat to the River Thames.
The district officer of Northampton Cadets, Chris Read, said: "We wanted the cadets to spend a week working the boat down to London but that will not happen."
The group was selected to represent Northamptonshire's Lord Lieutenant at the event to mark Queen Elizabeth's 60 years on the throne.
The 50ft (15.2m) x 6ft (1.8m) narrow boat weighs about 15 tonnes will be one of 1,000 boats taking part in the pageant on the Thames.
The cadets are now looking to transport the boat by road and have already been promised the loan of a low-loader from a local haulage firm but a crane is also required.
"The crane will help us put the boat back into the canal system in north London, if we are to take part in the event," said Mr Read
The narrowboat is currently being refurbished and it will be renamed Diamond in honour of the Queen's Jubilee.