Wellingborough railway station expansion plan unveiled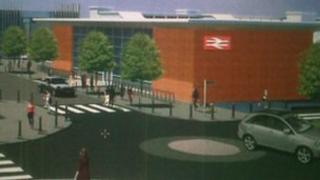 Plans to expand a Victorian railway station in Northamptonshire with a modern building and six-storey car park have been unveiled.
The designers said the addition to Wellingborough station, part of the £200m Stanton Cross housing and retail development, "meets requirements".
But concern has been expressed that the new buildings are not in keeping with the old structure.
The town's civic society said the plans looked like London's Euston.
A spokesperson for the society said: "We wouldn't expect any additions to be made to look Victorian, but they should be sympathetically done and this is very modern looking.
"We certainly disagree with the six-storey concrete car park overlooking the station.
"It looks like a building at Euston station in London."
The society also criticised the use of retail units on the site, saying they would detract from the town centre.
Development consultants Woods Hardwick defended the designs as the result of a lengthy consultation with Network Rail and the Local Planning Authority.
"The choice of building materials have been carefully considered and discussed with the developer and Network Rail and through the design process the final material choice has been changed in order to meet and suit the expectations and requirements of both the developer and the end user," they said.
The application reads: "One of the main objectives of the proposed development is to provide adequate parking for the existing and the new station buildings."
Commuter Rooful Ali, who lives in Wellingborough, said that while he would welcome any boost to the local economy he had concerns over the development.
Mr Ali said: "The look of the building and carpark is a disappointment, it's not fitting with the historic fascia.
"They say the new development fits with the bridge but, while the bridge development may be functional, it has poor ill-fitting architecture with brick cladding, and is not in keeping."
He was also concerned about the number of houses.
"We're in danger of creating literally a 'new town' east of the station with no regard to Wellingborough's town centre," he said.
"The worry is that there will be no influx or economic benefit in the old town if the retail and leisure developments are built only in the east for the new homes' convenience."
The plans are set to be considered by Wellingborough Council in the coming months.