Ding family murders: Three people arrested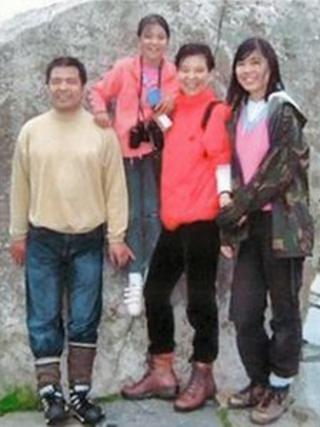 Three people have been arrested in connection with an inquiry into the murders of a Northamptonshire family.
Jifeng Ding, his wife Helen and their two daughters, Alice, 12, and Xing, 18, were found stabbed to death at their Wootton home on 1 May 2011.
A man and two women have been held on suspicion of conspiracy to assist an offender in Coventry, Gloucestershire and London.
They will be interviewed in police stations where they were arrested.
A 54-year-old woman was arrested in the Radford area of Coventry and a 39-year-old woman was arrested in the centre of Gloucester.
A 25-year-old man was arrested in the Islington area of London, Northamptonshire Police said.
Bitter battle
Last year, police named Anxiang Du, who has not been traced, as the main suspect in the case.
Mr Du, who worked at a herbal medicine shop in Birmingham, went missing a day after losing what has been described as a bitter court battle over his shared business interests with the Ding family.
It is known that Mr Du left his home in Coventry at 10:30 BST on 29 April, believed to have been the day of the murders, and was seen arriving at Birmingham New Street Station at 11:22.
He was then seen at Northampton Station at 12:35 before getting on a bus to the Ding family home.
The investigation moved to London when the family's Vauxhall Corsa hire car was found in St Johns Wood.
The suspect is thought to have used the hire car to flee.
Jifeng Ding was a lecturer at Manchester Metropolitan University.
Relatives of the Ding family said after the murders: "Jifeng and Ge were in the prime of life and had much to offer. Xing and Alice were bright and talented children who had their lives in front of them.
"To have our family taken away from us in this way is unbearably painful."
Northamptonshire Police officers have travelled around the UK, visiting significant Chinese communities, as part of the investigation.
Officers have also travelled to China.