Northampton bus interchange images on show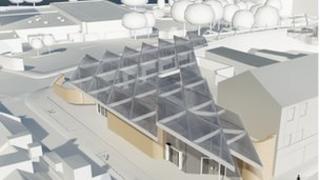 Artist impressions of how a new £8m bus interchange in Northampton will look have gone on show in the town centre.
The plans, which have been submitted to the borough council, show the station, which would be located on the site of what is now the Fishmarket.
It would enable the demolition of the Greyfriars Bus Station and the expansion of the Grosvenor Centre.
The proposals will be on display at the One Stop Shop at the Guildhall between 9:00 and 17:00 BST until 4 May.