Extra bus journeys proposed in Northamptonshire at peak times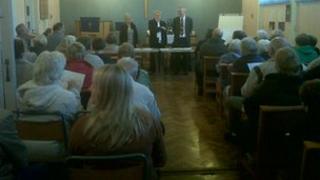 Extra bus journeys proposed by passengers in Wellingborough are to be debated by the council.
More than 70 bus users met to support additional journeys on the W3 route from the Kingsway estate to the town centre.
It is hoped they would allow users to get into the town earlier and leave later.
The cost of the proposals will be discussed by the provider, Centrebus, and Wellingborough council.
Councillor Martin Griffiths said the council would do its best to find the funding.
Find the funding
The new plans would see an extra three journeys in the morning, getting into the town centre at 06:45 BST, 07:45 BST and 08:45 BST.
Four extra peak-time evening journeys were also added to the proposals with buses leaving town at about 15:00 BST, 16:00 BST and 17:00 BST, with the last bus at 18.15 BST.
Mr Griffiths said: "Money is very tight as everyone knows, but we will do our best to find the funding.
"Now we have a preferred timetable the hard work begins - we have to see if we can find the money."
Centrebus was unavailable for comment.