Letters signed by Cromwell in Northamptonshire may go on sale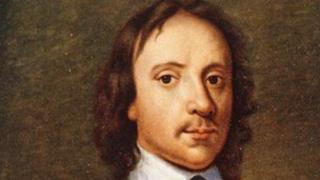 Letters signed by Elizabeth I and Oliver Cromwell in Northamptonshire could be sold unless £750,000 is raised to keep them in the county.
The papers, part of the collection from Apethorpe Hall - a country estate just north of Oundle, have been kept by the record office since the 1950s.
Now the office has been told the owners want to sell the collection.
A fund-raising effort has been set up to keep the papers at the hall. So far £60,000 has been been raised.
County Councillor Heather Smith, who is leading the fund-raising effort, said the papers were often accessed by people researching their family histories.
'Broken up'
"These documents span hundreds of years... There's stuff signed by Oliver Cromwell, stuff signed by Queen Elizabeth I, as well as expensive estate records from Apethorpe Hall itself and for a lot of the surrounding villages," she said.
"It's worth trying to keep them in the county and I feel that we should do our best to keep them available locally."
The record office is being offered first refusal on the sale.
Mrs Smith added: "The problem is if we can't raise the money then this archive will go on the open market... its quite likely to get broken up and some of the most important documents will probably end up leaving the country and going abroad."
The archive, which fills 30 boxes, also includes the household and estate accounts, including the servants' wages, and papers on Rockingham Forest, the Nene Navigation and coal mining.