Tributes as ex-Corby council leader Pat Fawcett dies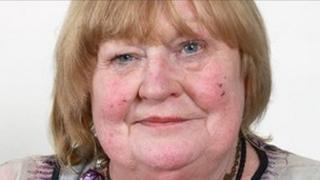 Tributes have been paid to the former leader of Corby Borough Council, Pat Fawcett, who has died of cancer.
Mrs Fawcett, 67, stood down from the council in December after being diagnosed with lung cancer.
She had been leader of the Labour-controlled authority since 2005, after serving as branch secretary of Unison in the county.
David Sims, the leader of the council's conservative group, said her death "was a sad day for the people of Corby".
He said: "It's extremely sad news. She worked very hard for her ward.
"She was extremely fair and a pleasure to work with. She always had the community at her heart."
Chris Stanbra, leader of the council's Liberal Democrat group, paid tribute to a good councillor and a champion for the underdog.
"We are all going to miss her," he said. "In all the dealings I ever had with Pat she was always firm but fair and always good humoured.
"She was always looking after people who needed looking after - of all ages and backgrounds across Corby, she was great at that."
Mr Stanbra welcomed the notion of a memorial to the councillor.
"What I would want is the community to come forward with ideas for that," he said.