Northamptonshire Police may look at 1930 'blazing car murder'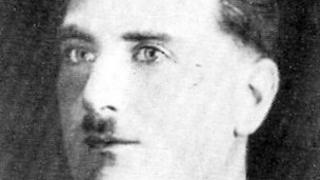 For more than 80 years, an unidentified victim of a murder has laid in the grave of an "unknown man" in a Northamptonshire cemetery.
All that is known of him is how he died - as an unwitting pawn in another man's attempt to stage his own death and start a new life.
He had been hit over the head with a mallet, bundled into the driver's seat of a Morris Minor and burned to death when the car was set on fire in the village of Hardingstone on 6 November, 1930.
The car's owner, Alfred Rouse, struck the match and hoped police would assume the charred body was his.
But justice caught up with Rouse, 36, and he was convicted of "the blazing car murder", taking the identity of his victim with him to the gallows.
The local Herald newspaper suggested at the time that it "would likely remain a mystery forever".
But a family who have long believed their uncle may have been Rouse's victim are hoping the case could now be re-opened by Northamptonshire Police.
William Thomas Briggs left his home in London for a doctor's appointment in 1930 but disappeared without trace.
Samantha Hall, the great niece of William Briggs, said family ancestry research with her grandmother, William's niece, had prompted her to look at the murder.
"It is only in recent months that my nan showed me newspaper clippings together with letters that her aunt had written in 1957, in an attempt to re-open the murder case," she said.
"My family were convinced that William was Rouse's victim.
"It also seemed plausible that, with the advent of new technologies, we may still have a chance of positive identification."
Exhume remains
Rouse had deliberately picked the 5 November and the early hours of the following day on the basis that flames and smoke would not arouse suspicion on bonfire night.
But two youngsters bumped into him as he walked away from the scene and their contact with him eventually led to his arrest.
A spokesman for Northamptonshire Police said the new approach by the family would be discussed by its cold case review team.
It is expected to decide within the coming weeks whether the family's suspicions are strong enough to warrant an investigation, which could involve exhuming the remains and testing for DNA.