Northampton's pubs and clubs hit by closures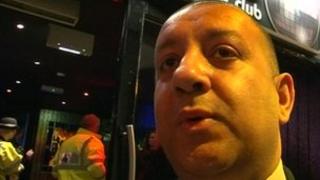 The closure of three major venues in Northampton has affected the number of people who come into the town centre at the weekends, pub managers have said.
The Lava & Ignite club closed in October and Fat Cats and Balloon bar closed in January.
Riaz Ahmed, manager of Groove Bar, said numbers had plummeted.
"On a Friday night we used to have about 800 people - now we have dropped down to 400 to 450," he said. "Where they have gone I have no idea."
Lava & Ignite club closed following the deaths of two students.
Fat Cats and Balloon bar were both forced to close after a fire destroyed their building on Bridge Street.
They are hoping to reopen but the building remains boarded up.
Addressing issues
Lionel Roberts, manager of the Mail Coach, a pre and post-theatre pub, said the closed and boarded-up building had affected the town centre's image.
"A lot of people that live in the villages think that you must not go into Northampton town because they think that it is horrible and violent," he said.
"And they won't come into the town centre. But it is not like that at all."
The leader of Northampton Borough Council David Mackintosh pledged to address some of the issues facing the night-time economy.
"The night-time economy is massively important to Northampton," he said.
"We can have up to 30,000 people in the town centre on a Saturday night if it is very busy - and that's a massive part of our economy for the town.
"It is important that we address these issues."