'Redundant' road signs removed in Northamptonshire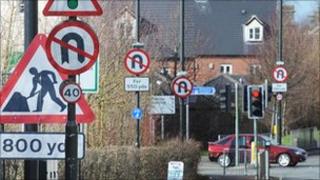 Hundreds of redundant signs on roads across Northamptonshire have been removed as part of a project to de-clutter the streets.
They were removed to help make roads safer and more attractive, according to Northamptonshire County Council.
About 316 signs and 586 signposts have been taken down since the project began in 2011.
The work started after the government wrote to councils urging them to "cut the clutter".
Ben Smith, cabinet member for the environment, said: "The signs have not been inspected regularly to see if they were still needed, so now we have too many."
Some of the signs taken down will be reused to replace signs within the county that have deteriorated.