London 2012: Northampton's lift tower laser show marks 2012 hours to Olympics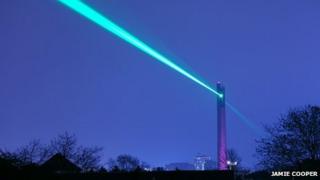 A lift tower in Northampton is to be transformed into an arts project as part of the Cultural Olympiad.
The 418ft (127m) National Lift Tower will have laser beams lighting the skies covering a 40 mile radius on Friday and Saturday.
It will signal 2012 hours to go before the official opening of the London 2012 Olympic Games on the 27 July.
The cultural Olympiad is part of a festival celebrating art and culture in the run up to the Olympics.
Artist and designer Jo Fairfax, said: "The lift tower is a well known building across the region so doing an art installation seemed like a natural fit."
The event is one of a series laser installations called Flow. It included lighting up water towers between Rothwell, Corby and Desborough.
Organiser Graham Callister, from the county council, said: "The opportunity to realise a spectacular installation on this well known landmark which was built by local people was something we couldn't miss."
The National Lift Tower is normally used to test the performance and safety of lifts.
The installation will take place between 21:00 and 23:00 BST.