Plastic wrapped dog dumped outside animal shelter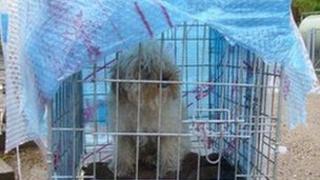 A small dog has been found in a plastic-wrapped crate dumped outside a pet rescue centre in Northamptonshire.
The poodle-cross was left at the end of the driveway leading from the A509 to the Animals in Need in Wellingborough.
Shelter manager Anne Marriott said she thought the parcel contained animal feed and was shocked to find a "small frightened dog" inside.
"Given the cold weather and the proximity of the main road, it's a miracle he survived," she said.
The dog, named Marvin by staff, is now recovering at the shelter. He will be vaccinated before being rehomed.
'A lovely boy'
Mrs Marriott added: "I just can't see why anybody would want to dump him.
"He's a lovely boy, happy to be cuddled and picked up.
"We initially thought he was an apricot colour but that was urine - he's fluffy white."
Hours after the sanctuary posted a picture of the dog on Twitter, more than 100 people left messages condemning the owner for leaving the creature rather than organising for him to be collected.
Mrs Marriott said: "Everyone who knows us knows that we would take the animal.
"Even if we haven't got room I say wait for a couple of days and as soon as there is a space I'll have them. There was no need to dump him.
"It must have been very frightening.
"As it is we are full but we have made him a kennel in the wash room. He is very happy and I'm sure he is going to find a nice home."