Objections raised over £50m Rushden Lakes shopping development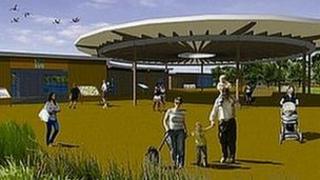 A £50m shopping centre plan near Rushden could be referred to central government, the local council said.
The Rushden Lake development will be discussed by East Northamptonshire council in June.
Northampton borough councillors have criticised plans, saying the project would take away town centre trade.
Northampton councillor Tim Hadland said: "We have a duty to protect and nurture our town centre." Developers said the plan would create 1,500 jobs.
Objections have also been raised by councillors from Corby and Kettering.
Mr Hadland said: "After studying the size and location of the proposals and the potential impact on Northampton and other town centres, the committee has raised a number of strong objections.
"The proposals appear to conflict with national planning policy and could jeopardise jobs and investment in Northampton.
"Therefore if East Northamptonshire Council decided to approve the plans we would have to look at referring their decision to the Secretary of State."
Creating jobs
Developer LXB Retail Properties who own the land have been consulting with councillors and the public over the last few months.
The planning application which was submitted in December 2011 has received mixed reactions.
Graham Newell, from Rushden who supports the plans said: "There are so many unemployed young people locally and this will improve shopping to people living in our area."
Councillor John Farrar, from Irthlingborough town and district organised a petition in his town over the weekend.
He said: "We had 150 people signed up in two hours in support of the plans. A project like this would give people more choice in the area."
But Mark Jones, from Wellingborough Traders Group said: "We feel this will harm Wellingborough town centre, at a time that government policy is on supporting town centres.
"Whilst it may create 1,500 jobs, we know that at least that many and more will be lost from town centres surrounding the schemes."