Northampton railway station redevelopment funding agreed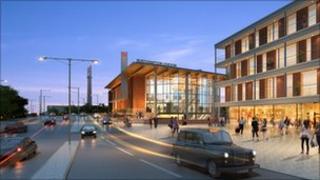 A new £20m rail station is to be built in Northampton after the government agreed to fund half the cost.
The two-storey glass and steel building, due to to be completed by 2014, will replace Castle Station in Black Lion Hill.
The government is providing £10m and the rest of the money will come from Northamptonshire County Council and Network Rail.
Construction work is expected to start by the end of this year.
'Economic growth location'
The station is located within Northampton's Enterprise Zone, which runs alongside the River Nene, from the Avon Headquarters past the gasometers up to Sixfields.
It is claimed the Enterprise Zone could create up to 13,000 jobs.
West Northamptonshire Development Corporation (WNDC) has led the station development plans.
Its chairman John Markham said: "This investment reflects the government's confidence in the area as a leading economic growth location."
Brian Binley, Conservative MP for Northampton South, said: "A new station will help us attract businesses from around the world, which in itself will change the fabric and stature of our town for 100 years and provide more opportunities for our young people and those that follow.
"We have won this investment at one of the most difficult financial times our country has experienced and that shows that Northampton is set for great things."
The new station is expected to be twice the size of the current building.
The WNDC said it was needed because the current station got completely full at peak times.