Cancer treatment battle girl from Northamptonshire dies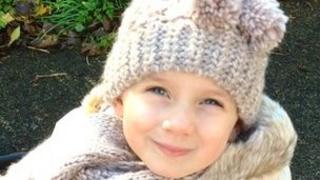 A five-year-old Northamptonshire girl battling with cancer, whose family helped raise £300,000 towards medical care, has died before she had the chance to have treatment in the US.
Niamh Curry died just days after her family celebrated raising most of the £450,000 needed for the medication.
Since her death hundreds of tributes have been placed on social networking sites Facebook and Twitter.
Her father Chris wrote: "Sleep tight my darling. x"
Aggressive cancer
Niamh was diagnosed with neuroblastoma, a form of aggressive childhood cancer which attacks the sympathetic nervous system, in 2010 when she was three.
She underwent several bouts of medication, including chemotherapy, radiotherapy and an operation to remove a tumour, but the cancer returned at the end of 2011.
Niamh's family then set up an online campaign, Niamh's Next Step, to raise money to pay for treatment at The Children's Hospital in Philadelphia.
After news of her death was announced on social media networks in the early hours, many donations were made in her memory and more than 1,000 tributes posted online.