Corby Cube water 'turned yellow' after mains problems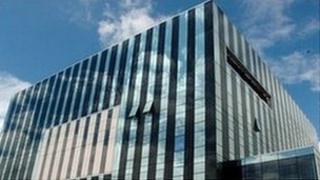 Problems with the water mains at Corby Cube caused the tap water to have a "yellow tinge" for four days, the town's borough council has said.
It is the latest in a series of problems to affect the £47m building since it opened in November 2010.
Staff at the Cube were told not to drink the water and extra hand gel and bottled water was provided since the problem was reported on 18 May.
The repair work is thought to have run into hundreds of pounds.
'Sediment build up'
The latest trouble at the Northamptonshire building seems to have been caused by a sizing problem.
The borough's chief executive Norman Stronach said: "We have a large system and it has not been used to its full capacity... there has been a build up of sediment in the tanks and that is being removed."
Workers were on site on Monday and a spokesperson for the council said the tank had now been cleaned.
Earlier this year a leaked confidential report by Corby borough councillors revealed that the Cube was more than £10m over budget and was built with "dangerous" design flaws which had to be corrected.
The building, which houses council offices, a library and theatre, had a staircase described as "like a helter skelter", among other faults.
The report said essential changes meant the building's capacity for people was reduced to 1,560 - half of the 3,000 originally envisaged.
Corby and East Northamptonshire MP Louise Mensch has repeatedly requested that the confidential report into the Cube be made public.