Neuroblastoma cancer children 'run out of time'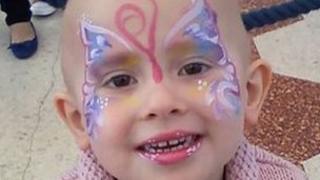 The family of five-year-old Niamh Curry had spent six months fundraising towards the cost of care in America when she died.
They will never know if the £450,000 treatment, which is not available in the UK, would have worked on the neuroblastoma - the rare form of cancer - that she suffered from.
Her death, on 20 May, brought back painful memories to Emma Knighton from Wellingborough, whose daughter Chelsea also died from neuroblastoma in 2009 while funds were being raised for her care.
"These children run out of time," Mrs Knighton said.
"From the moment they are diagnosed, or the moment the family realises the treatment is not available in the UK, many start trying to fundraise the £450,000 needed for treatment in America.
"We knew there were some trials available, but unless you fitted in with them perfectly, unless you are exactly what they are looking for, you aren't eligible.
"There was nothing for Chelsea so we started to raise the money ourselves."
Race against time
The families of children with neuroblastoma often turn to specialists in America and Europe who offer different trials when treatments like chemotherapy, surgery, radiation therapy or stem cell transplants do not work.
As only some of these trials are funded by the Department of Health, many parents find themselves in a race against time to raise the £450,000 the care can cost.
And many children like Chelsea die before they have the chance to raise all of the funds.
Mrs Knighton said: "There is a problem with funding because you hear of so many families of children with neuroblastoma trying to raise the £450,000.
"These could be the last months of your child's life, and there you are, frantically fundraising, trying to get the money together for an operation that could save their life. It's wrong.
"No child should die because they couldn't raise money quickly enough."
Local trials
When Chelsea died, Mrs Knighton, 32 and her husband Andy, 36, set up Chelsea's Angels, a charity to help the families of children with rare cancers.
She said: "If the government could help towards the cost of the £450,000, or provide the treatment in the UK, anything that would stop what we have now which is children dying because they haven't got the facilities they need."
The Department of Health said more trials for children with advanced neuroblastoma are being made available this summer, but added decisions on whether or not care would be paid for would continue to be made by local primary care trusts.
Meanwhile, the national charity Neuroblastoma Alliance UK is preparing to launch a campaign to call for the Department of Health to make care more easily available.
Chief executive Alison Hoy said: "We know that there are a lot of parents of children with Neuroblastoma who would like to see the trials available more locally, and to have the Department of Health help them access the treatment."