Northampton University considers £300m move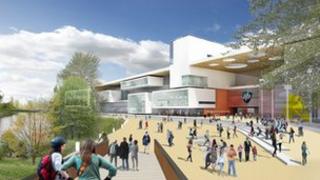 The University of Northampton is considering relocating to a new campus in the town centre, at a cost of more than £300m.
The university believes the move would attract hi-tech businesses to work within its research departments.
Its governing council has agreed the funding and plans are with the West Northamptonshire Development Corporation, which controls the site.
Should it be given the go-ahead, work could begin in 2015.
Delia Heneghan, the university's director of marketing, said artists' impressions of how the new site might look were "fantastic".
'Huge investment'
Mrs Heneghan said: "We think that the opportunity to locate into the enterprise zone will offer our students a different experience.
"It's a huge investment, it needs to be given a lot of debate.
"If we are able to go ahead... we would hope that building would start in 2015 and (we) would be located there in 2018."
The university is currently located across two campuses, the Avenue campus and the Park campus, which are on the outskirts of the town.
The university said that should the plans go ahead the existing campuses would be phased out rather than closed down.
David Mackintosh, the leader of Northampton Borough Council, welcomed the plans.
He said: "This really is the best news, and will put Northampton on the map as a university town. Bringing the university into the Waterside area would create jobs and be a massive boost to the local economy."
It follows plans for a £25m student housing project in Northampton to provide accommodation for 464 students on the site of St John's surface car park.