Hugh Jackman stuns members of Northamptonshire gym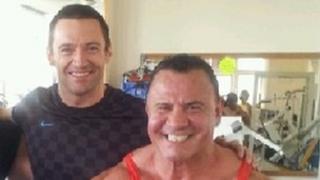 Members of a gym in Northamptonshire were stunned to see Hollywood actor Hugh Jackman training alongside them this week.
The X-Men star took time out from filming the new adaptation of Les Miserables in Northamptonshire to train at the Bodyshapers gym in Kettering.
Gym-goer Peter New said: "I walked past him initially, you don't expect to see Wolverine when you are doing sit ups."
Gym owner Vince D'Alessandro said the star was "very fit".
'Really nice guy'
Mr D'Alessandro said: "When he came in and asked for a week long membership we charged him £10 - we didn't know who he was initially but members started to realise pretty quickly.
"I had to stop a few of them from trying to get pictures straight away, I didn't want him to be bothered.
"He was a really nice guy though, and everyone got on with him fine. He said he was filming here but came every morning for a work out."
The Australian star was seen following a routine of lifting weights and lunging with his personal trainer.
He is to play a lead role in Tom Hooper's film adaptation of Claude-Michel Schonberg's musical.
He will star alongside Russell Crowe, Anne Hathaway and Helena Bonham Carter.
Dozens of people from Northamptonshire are appearing as extras in the film which is due out next year.