Cultural Olympiad: Size 72 boots made for Godiva puppet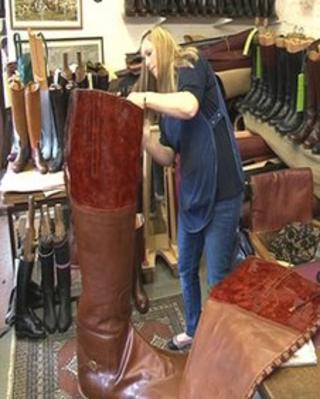 Bespoke boots created for a giant Lady Godiva puppet taking part in the 2012 Cultural Olympiad are to be unveiled in Northamptonshire.
The size 72 boots, made by county boot maker Horace Batten, will be displayed at Northampton Art Museum from 12 June.
The riding boots, worth £10,000, will be worn by a 33ft (10m) tall puppet of the 11th Century noblewoman in July.
Designer Tim Batten said: "We've used three or four complete cow hides to makes these boots."
'First giant boots'
The puppet is a centrepiece of Godiva Awakes, a public art commission funded by Arts Council England.
It will start a ceremony in Coventry where it will spend a week walking from the city to London via Northampton.
It is during its stop-over in Northampton on 31 July it will be presented with the boots.
Jane Seddon, from museum, said: "These boots are really unusual. We have elephant boots but this will be the first giant boots in our collection."
Lady Godiva was famed for riding on horseback naked through the streets of Coventry to protest against high taxes.
The marionette puppet, however, will be clothed.
The boots will be on display at the Northampton museum from 12 June to 30 July.
The Cultural Olympiad, a series of arts events that have ran in the four years up to the Olympic Games, culminates this summer with the London 2012 Festival .